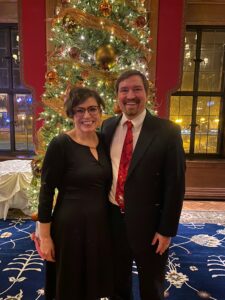 Pastor John Heille started in ministry at Good Hope, Immanuel, and St. John's Lutheran Churches in Titonka and Woden, Iowa in March 2022. He is a dad to three great kids and married to fantastic partner, Laura Aase, another Lutheran pastor.
John has a degree in history from Saint Mary's University in Winona, Minnesota. He competed in Cross Country and Track and Field in college. He graduated from Luther Seminary in St. Paul, Minnesota in 1999.
 John was ordained in 1999 and has served as a pastor in 4 congregations in Minnesota and Wisconsin before serving now in Titonka and Woden.
John says, "My greatest joy as a pastor is being invited into people's real lives. I have been present in days of great joy and great sorrow–the churches mission and my work as a pastor is to is the bring the good news of Jesus to all people right where they are."
John was raised in Minnepolis, where his parents still live. John and Laura enjoy traveling and kayaking together. John is still a runner and enjoys cross country skiing. He tries to start most every day getting out moving with Daisy, the dog. Most every morning he is out first thing listening to the Bible in his ear buds as he gets started for the day.